St Nicholas' Church, Carlton Scroop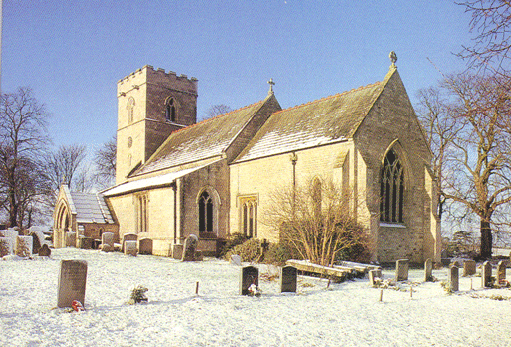 The earliest parts of the Church pictured above date back to Anglo Norman origin with the remaining fabric being of the Decorated style, with most of the Church completed by the end of the 14th Century.
The main features are as follows:-
the traceried stone font which is more than 500 years old

the pulpit is Jacobean and dates back to the 17th Century

the South aisle window is an early work of Kempe (1837-1907)

above the main alter the east window is a fine specimen of the architecture of the reign of Edward III. It is known as the Newmarch window and displays a fine and rare example of 14th Century medieval stained glass (1307-1310) depicting two figures kneeling each holding a shield.

there are a beautiful set of handworked kneelers depicting the arms of many of the Saints throughout the ages.