St Nicholas' Church, Normanton on Cliffe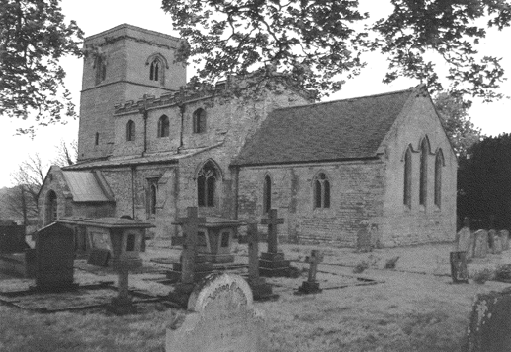 High on the Cliff road between Grantham and Lincoln it stands, with fine views of a countryside rolling away, green and gold. Its ancient church by the roadside is largely 13th century work, with a deep-splayed lancet at the west end of each aisle and 4 more lancets in the chancel; but the south arcade has 2 big round arches from the close of Norman days, the tower is 14th century, and the clerestory 15th.
The clerestory is enriched with battlements adorned by shields and roses. The tower has a row of curious animal heads below its 15th century parapet, and a west window graced with a profusion of ball-flower ornament and a smiling bishop's head of stone looking out from the tracery, where there are still a few fragments of old painted glass.
This is a simple house of prayer, its walls plain and unadorned by monument, its treasures few. The plain round font is over 500 years old and the pulpit with sounding board has been here since "Stuart times".
(from "The Kings of England" series by Arthur Mee – County of Lincolnshire. (1949))